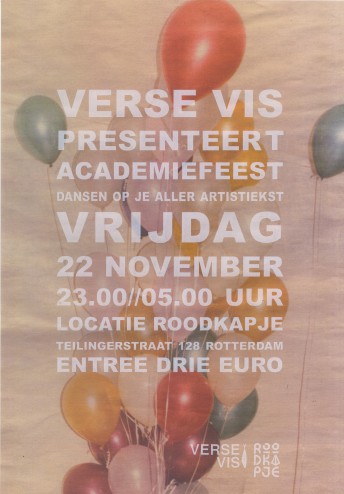 22 NOVEMBER 2013 WAS THE FIRST EDITION OF THE ACADEMY PARTY ORGANIZED BY 'VERSE VIS'.
A COLLECTIVE STARTED IN COLLABORATION WITH
ANDREA JELLINA GREVINK.
(EX)STUDENTS WERE INVITED TO SHOW WORK, PERFORM OR SUGGEST OTHER IDEAS.
WE HOPE TO CREATE A POSSIBILITY FOR COLLABORATIONS BETWEEN DIFFERENT DEPARTMENTS INSIDE THE ACADEMY AS WELL AS CREATIVES OUTSIDE THE ACADEMY.
ALSO WE HOPE TO GIVE PEOPLE FROM OUTSIDE AN INSIGHT OF WHAT ACTUALLY IS BEING CREATED INSIDE OUR ACADEMY WALLS.






PICTURES; DENNIS NEUMAN/
MEIKE SCHIPPER/ MEUK